twiamo.com
Twiamo is a friendship management app for Twitter. It uses metrics and keywords that allow users to quickly assess the value of other Twitter users.
Twiamo is build as a progressive web-app; a mobile-first application that feels and behaves like a native mobile app, but does not require installation or updates.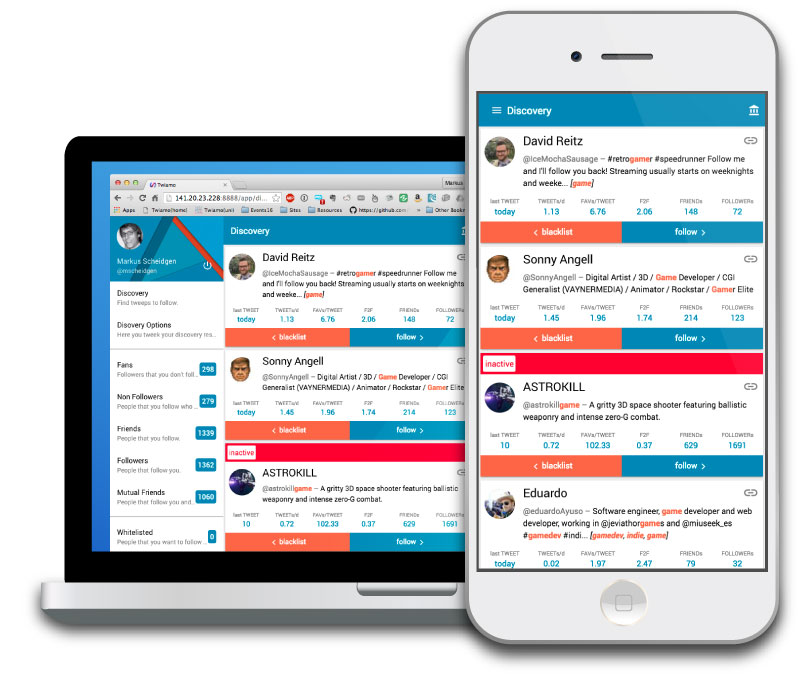 Java, GWT, App Engine, Cloud Storage, Javascript, Web Components, Polymer, Twitter API, REST
XRAW
XRAW is a programming framework that allows to use any existing REST API within a JVM environment in a type-safe manner. It uses active annotations to alter the semantics of Java classes and fields to represent remote resources as if they were local data.
Twiamo comes with small excerpts of the APIs for the larger social networks Twitter, Facebook, YouTube, and Tumblr. It can easily be extended by defining types for requests and resources of more existing APIs or to create type-safe client libraries for APIs build from scratch.

XRAW is compatible with GWT and can be used for web app clients, Android, or regular desktop apps. It is open source and distributed as a maven module.
Java, Xtend, JSON, REST, Twitter, Facebook, Youtube, Tumblr, Maven
Apps & Games
Smartphone apps and app stores are probably one of the most distruptive things in the last decade that any programmer has to try build for. I experimented with a variety of platforms and technologies. I developed and published apps and games for both iOS and Android.
LibGDX, Unity, Java, C#, Android, iOS